Prior to 1909, there had been talk of forming an Old Boys' Association, but it was not until the annual dinner held on 29 March 1908 that a provisional committee of eight was appointed to work on the actual formation of an Association. The resulting general meeting was held on 26 May 1909 – and the Association was formed.

Hale School was called High School at the time and the Association adopted the name High School Old Boys' Association. The Rules were printed with the same crest that appeared on the School's Cygnet cover: the swan with the motto "Floreat Schola Perthiensis" (which translates as "may the atmosphere of learning in Perth flourish") – the unofficial motto of the School at the time. By 1920, the School had adopted "Duty" in lieu of its unofficial motto, however, the Association elected to continue to use the former.
On 4 January 1910, the Association held its first dinner and, by May 1910 the Association was firmly established with 57 life members and 24 annual members. One of the driving forces behind this early success was Rev C L (Tom) Riley who was Secretary between 1920 and 1927. Financial members grew to over 600 during this period.
In 1921, the State Government amended the High School Act to enable the Association to nominate three governors of the School; their first nominees being, T A L Davy, E A Lee-Steere and C L Riley. The other six governors were appointed by the Government.  
---

During the State's Centenary Celebrations in 1929, the Association presented the School with a gallery of pictures of all past headmasters. It was also in 1929 that the School changed its name to Hale School – and the Old Boys' Association followed suit, now being known as the Old Haleians' Association.

---

 
Up until 1945, Old Boys' news was published in the Cygnet each year but now "circular letters' began to be issued to members of the Association, both at home and on war service and in 1950, the practice of holding a "Country Dinner" in a different town each year commenced, with the dinner that year being held in York.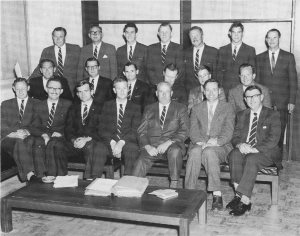 The Old Boys Committee Meeting: 1962
Back Row:
Ian Wilkens, Dick Newman, Vic Garland, Murray Gerloff, Ted Blackman, Jock Irvine, Lloyd Fethers
Middle Row:
Tony Brand, Geoff Lilburne, Trevor O'Keefe, Arthur Lodge, Michael Beech, Ken Jones
Front Row:
John Hingley, John Deykin, Bob Gregson, Barry Sanders, Ted hantke, John Prince, Jim Cumpston.

The year of 1955 was an important one for the Association.  The publication of "The Old Haleian" commenced and Cygnet Hall was opened, giving the Association a "home".  Also, Old Boys' Day that year saw a Roll Call of 130 Old Boys, which was believed to be the largest ever attendance, up until that time.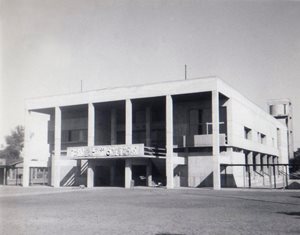 In 1958, the Association was incorporated and the Hale School Act was amended to provide four members of the Board of Governors to be appointed by the Association, with another four members being appointed by the Perth Diocesan Trustees with the Archbishop of Perth being the other member of the Board.

Membership had reached 1000 by 1960 and the Association's funds stood at £3,590. In 1961, the AGM of the Association began to be held as part of Old Boys' Day and in 1962 the War Memorial Hall was opened following an Appeal to Old Boys which raised the necessary £75,000 over a ten-year period. Another project funded by the Association was the Chapel of St Mark which opened in 1969.

Memorial Hall: 1960s

In 1982 The Old Haleian was enlarged to contain news of the Parents' and Friends' Association, and in 1983, the Ladies Auxiliary, the Cygnet Rowing Club and the Old Haleians' Hockey Club.

In 1987, the Hale School Foundation was initiated as a non-profit organisation dedicated to generating short and long-term funds to meet current and future needs of the School. It attracted to its service the talents, skills and goodwill of people who had at heart the good of the School.  To this end, the Old Haleians' Association became the first Patron member of the Foundation with a contribution of $25,000.

By the end of the decade, in 1988, "The Old Haleian" became known as "The Haleian", with the shift of the responsibility for its production going from the Old Haleians' Association to the Hale School Foundation.  This change was made to cope with a much wider circulation, reporting the activities of all associated bodies working for a better and vibrant Hale.

Old Boys have given, and continue to give, tremendous support to the School.

CLICK HERE  to access the President's Registry of the Old Haleians' Association