BISHOP HALE: The founder of Hale School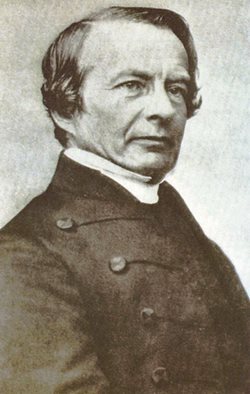 MATHEW BLAGDEN HALE was born in 1811 in Alderley, Gloucestershire. He attended Katherine, Lady Berkeley's School at Wotten-Under-Edge whose most famous pupil was Edward Jenner, the first doctor to introduce vaccination as a preventative medical treatment.
Hale was a direct descendent of Sir Mathew Hale, Lord Chief Justice of England during the reign of Charles II. The family owned considerable property in Gloucestershire and were patrons to many organisations in their region, including the Lady Berkeley School. It was an attitude toward community service and responsibility that Hale carried with him to the new colonies in Australia.
After graduating with a Bachelor of Arts degree in 1835, the young Mathew Hale read for his ordination, was ordained as a Church of England Curate in 1836 and in 1838 was granted his Cambridge M.A. degree. No doubt heavily influenced by another Cambridge man, William Wilberforce, he was to submit his PhD treatise on the convict system in Western Australia, entitled 'On the Transportation Question' in 1857. In the work he advocated a rehabilitation rather than retribution approach to convict administration. It was a revolutionary, humanitarian approach for that period and brought him into conflict with 'old school' conservative administrators.
After the death of his first wife Sophia, Mathew Hale journeyed to South Australia as an assistant to Bishop Short in 1847 and became Archdeacon of Adelaide. He was one of those instrumental in the formation of St Peter's College in Adelaide and was primarily responsible for the establishment of a mission for Aborigines at Poonindie on the Eyre Peninsular.
In 1855 Hale returned to England without his family and the following July he travelled to Western Australia on the ship Guyon, and in November his family arrived there from South Australia.
In March 1857, Hale returned to England with his family, where on July 25, 1857 he was consecrated as the first Bishop of Perth in a ceremony at the Lambeth Palace Chapel.
In 1858 Bishop Hale journeyed from England to the Swan River on the convict ship Nile. It was a frightening trip. There were real threats of a mutiny and the safety of the free passengers was in jeopardy on occasions. Bishop Hale later questioned the motives of prison officials in England who had sent such vicious men to the Swan River Colony in defiance of stated criteria for the selection of a more 'benign' type of prisoner.
Bishop Hale's influence on the struggling colony proved to be profound. Not only was he heavily involved in ecclesiastical and convict affairs but in educational and aboriginal matters as well. He saw as an imperative the need for a secondary school, not only to cater for the education of the sons of the colonists, but as an absolute necessity for the future well-being of the colony.
He established the Bishop's Collegiate School in 1858, modelled after England's public schools.
The first pupil enrolled at the Bishop's Collegiate School was Laurence Eliot, son of the government administrator at Bunbury. Legend has it that Bishop Hale escorted the 11 year-old Eliot on horseback as they rode to Perth, camping out in the bush, over a three day period, in time for the opening of the School doors for the first time at 8.30 on the 28th June, 1858 .
THE CLOISTERS 1865 - The Rev. F Taylor with his school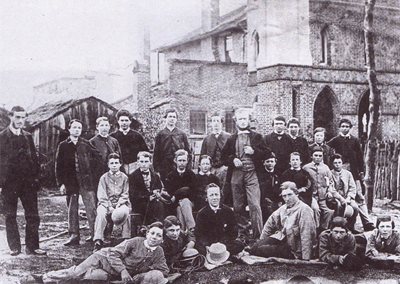 Back Row
T Quin, G Eliot, B C Wood,  Morton Craig, O Burt,
Alex Forrest, W Chidlow, Wm McKail
Middle Row
F B Wittenoom, V Bruce,   E B Courthope, F Burt, 
The Headmaster - H Gale, A Burt,  J Ramsay, F Durlacher
Front Row
E Wittenoom, Geo Parker, A S Roe, Chas Edwards, J Bovell, T Shenton

The Swan River Colony was struggling; in consequence so did the School. Hale wrote to his daughter despairingly in March 1872:
 
---

" The Collegiate School, after all the anxiety, labour and money I have spent upon it has come to an end. There is no such thing as convincing the people that education pays, and that settles the question. The School has perhaps cost me less during Mr Hare's time than under former masters, except the first, Mr Lynch, but the parents won't use the School, so it is no use keeping (it) struggling on. "

---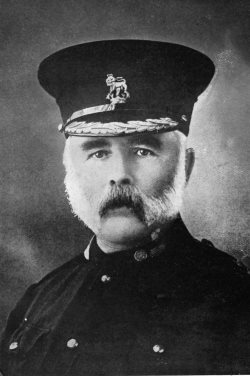 The Collegiate School resumed a few weeks later under 'Paddy' Haynes and continued operations until joining with the newly constituted High School in 1878.
Mathew Hale was Bishop of Perth until 1875. His constant travelling on horseback throughout Western Australia over his 18 year stewardship as Bishop eventually brought on a period of ill health. His wish, at the age of 64, was to retire back to his native Gloucestershire, but the church had other plans for him. They directed that he should succeed Bishop Tufnell as Bishop of Brisbane where he was installed in December, 1875. He spent another eleven more difficult years in Queensland before finally taking up an appointment as the rector at the tiny parish of Ozleworth in Clifton, Bristol, close to his birthplace in Gloucestershire.
Bishop Hale died in 1895 at the age of 84. He is buried in the Hale family churchyard at St Kenelm's, next to the grounds of his birthplace, Alderley House, now the Rosehill Preparatory School.
A statue of Bishop Hale which was commissioned by the Old Haleians' Association was erected outside the Cloisters in central Perth in March 2008.
Compiled by Lee Panotidis from historical research and notes by Bill Edgar