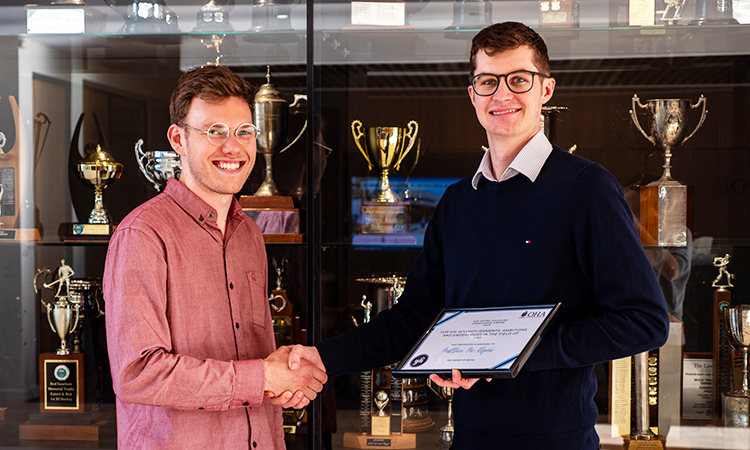 The YH Committee are proud to announce Matthew McAlpine (2007-2011) as the recipient of the 2020 Young Haleians' Endeavour Award.
The Young Haleians' Endeavour Award provides a unique opportunity for a member of the Young Haleian community to be nominated (or self-nominate) for an award that provides financial support up to the value of five thousand dollars. This financial support is designed to enable Young Haleians to pursue their future goals – no matter their field of pursuit.
Every  Young  Haleian  has  the  opportunity  to  strive  towards  a  goal  with  purpose,  and  the  Young  Haleians'  Award  is  designed  to  provide  the  support  needed  to  do  so.  The  criteria  for  the  award  are  outlined  as  follows:  
To  be  awarded  to  a  Young  Haleian  under  the  age  of  30  who  has  established  commitment  towards  and  achieved  (or  is  significantly  advanced  towards  achieving)  success  in  his  chosen  field  of  endeavour.    
He  must  be  able  to  demonstrate  noteworthy  accomplishments  within  this  field  and  have  strategies  in  place  to  further  progress  towards  a  significant  goal  while  reflecting  the  values  of  Hale  School.    
The YH Committee are proud to announce Matthew McAlpine as the recipient of the 2020 Young Haleians' Endeavour Award. The award recognises Matthew's outstanding accomplishments, future ambitions and endeavours in visual arts.
Hale School ignited Mathew's love for visual arts. By the time he was in Year 11 he would spend every free afternoon available, painting in the art department. He received the Leon Pericles Art Prize in his final year went on to persue his passion for art, studying his Bachelor of Arts at Curtin University.
Mathew's first major industry achievement came in 2014 when he won the City of South Perth's Emerging Art Prize. The same year and upon graduating, he was awarded a studio residency at the Fremantle Arts Centre. He also undertook his first solo exhibition at Free Range Gallery in Perth.

Matthew returned to study in 2016 to complete his Honours, and held a solo exhibition at the Art Space Collective in Scarborough. At the beginning of 2018 he was selected for a solo exhibition at c3 Contemporary Art Space in Melbourne. Since the solo show in Melbourne, he has exhibited in group shows in Brisbane, Houston (USA) and Perth; and held further solo exhibitions in Launceston and Perth.

Each exhibition and the conversations that emerge from them continue to inspire Matthew to create.
One of the most rewarding experiences Matthew describes as an artist, has been painting a mural at the Senior Boarding House at Hale. The mural gave boarders the opportunity to reflect upon the place that they grew up and to express their love for their hometown by helping to paint a symbol of that place on a map that he painted on the wall. Matthew believes facilitating this project cemented the power of art to bring people together to celebrate their communities.
"Receiving the Young Haleians' Endeavour Award and this financial support will be an incredibly helpful way to engage in a focused and intensive period of making. It will allow me to concentrate on making a significant body of work that could be entered into a number of national art prizes and be used to apply for a solo exhibition at a respected gallery."
Examples of Matthew's artwork can be found on his Instagram.
Kim O'Brien (R) YH Chair presenting Matthew McAlpine (L) with his Endeavour Award

.