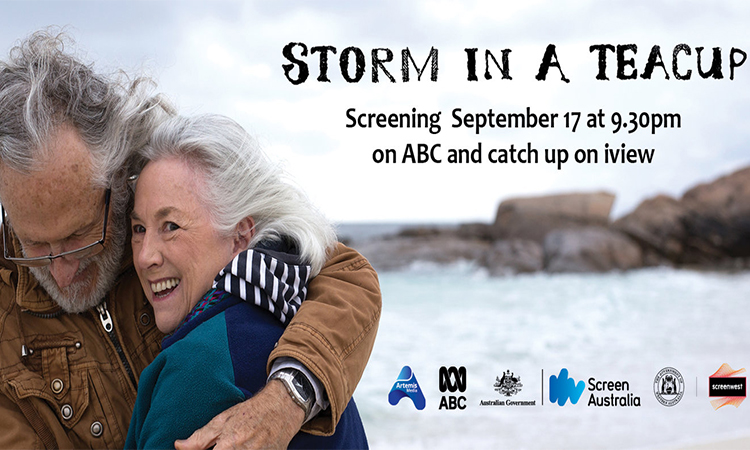 'Storm in a Teacup' is the story of Leon Pericles facing his greatest challenge yet: holding an exhibition of his life's work while facing the mental decline of his wife and collaborator, Moira, as Alzheimer's disease turns their world upside down.
'Storm in a Teacup' is a moving documentary produced by Artemis Media, which paints an intimate portrait of Leon's life as he embarks on his biggest challenge yet – an ambitious retrospective exhibition of his life's work at a time when he has the least support. His beloved wife Moira has always played a vital part in Leon's success as his creative counsel and business manager. When Moira was diagnosed with Alzheimer's disease their lives took a dramatic turn that changed their lives irreparably. The documentary delves into their journey as Leon juggles his roles as an artist, husband and carer.
Told through the eyes of their daughter Nia, this uplifting, raw and emotionally engaging documentary explores love, life and loss. 
'Storm in a Teacup' airs on Tuesday 17 September @ 9.30pm on ABC + iView
A little more about Leon..
Leon is acclaimed nationally and internationally and has held over 150 solo exhibitions throughout Australia and overseas since 1969. Most recently in 2018 with his 50 Year Retrospective 'Just Scratching the Surface', the largest art retrospective ever held in Western Australia.
His witty and unique views of Australia, combined with his outstanding talent have earned him the reputation of being one of Australia's most prominent artists.
Accompanying the 50 Year Retrospective Exhibition: 'Just Scratching the Surface' comes a 400-page illustrated book celebrating the distinguished career of artist Leon Pericles.
Traversing more than five decades, the publication takes us on a chronological journey from 1968 through to the present; covering Pericles' childhood, art school years, key exhibitions and career-defining moments. For the first time, this book brings together images of every etching Pericles has produced during his 50 year career, making it a unique and collectable record for any admirer of his work.
With cover artwork created by Pericles, the book is an artwork in itself and features quotes from some of Australia's most well respected personalities including Tim Minchin, Hon Julie Bishop and Ita Buttrose. The foreword is written by Professor Ted Snell, Director Cultural Institute UWA and the introduction by Hon Peter Foss QC Arts Minister WA 1993—2001.
The book
'Just Scratching The Surface : Leon Pericles 50 Year Retrospective'
retails for $100 and can be purchased
here