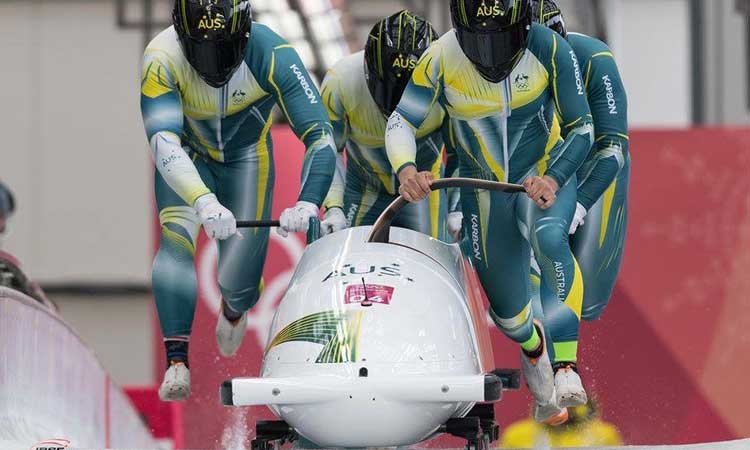 The four-man bobsleigh is one of those events where so much can go wrong!
Lucas' dream when he finished school was to compete at an Olympic Games. After six years of experiencing the highs and lows of being a track sprinter - with Olympic representation looking less and less likely, a call came from the Australian bobsleigh pilot at the time, Heath Spence to see if he was interested in a change of direction.
That was in 2011. Since that time Lucas has been an integral part of two Olympic challenges as a member of the Australian Bobsleigh team. There were plenty of people who thought he was crazy, but once he had started training and competing – he knew bobsleigh was for him.
In 2014, Lucas was the 'brakeman' helping the team to place 22nd in the event. Australians traditionally set their standards pretty high when it comes to sport and this might not sound like a particularly good result but it was just two places shy of the best-ever for an Australian team.
This year, Lucas saw the bobsled track from a whole new vantage point! From the front. He was the pilot and responsible for manoeuvring the sleigh around the track.
The two-man man team finished in 21st place – frustratingly close to qualifying for the final rounds. Unfortunately the 4-man – was not all plain sailing!
The team were fortunate to be cleared to compete following a crash during training prior to the four-man event. They made a mistake entering corner number 12 which resulted in ice burns and scrapes but passed medical tests to continue. The Aussies were fourth sled off the start line and despite a PB in the second heat – could only finish in 24th spot; missing out on a chance to contest the finals.
"It's electric having the crowd shouting and pumping you up and then having your teammates there firing each other up. It's pretty amazing and even talking about it now I get goosebumps, thinking back to that first run and the nerves running through me and my heart pumping and making sure everything is going to go right. Four-man is one of those events where so much can go wrong."