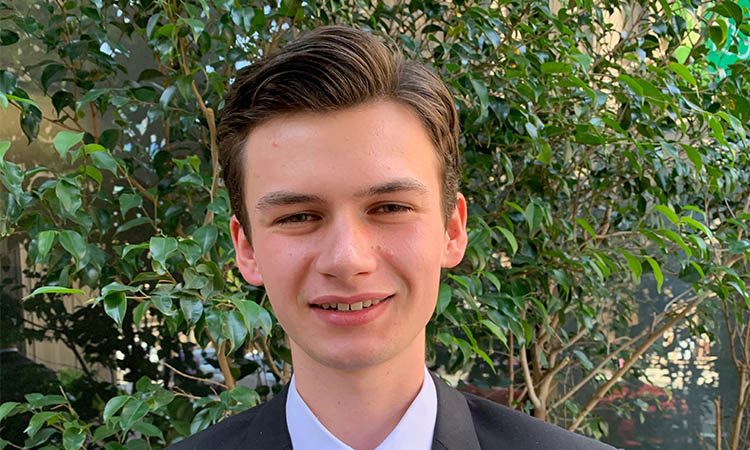 Kristian Jongeling (2019) is the fourth Hale School student to be awarded a prestigious C.A.S. Hawker Scholarship since the scholarship was first awarded in 1990.
C.A.S Hawker Scholarships are awarded each year to students of principle and character, who are committed to Australia's future. Selection is based on personal qualities as well as academic ability.
Kristian is a first year ANU student, enrolled in Bachelor of Laws (Hons) and Bachelor of Politics, Philosophy and Economics (PPE) degrees at the ANU in Canberra and is in residence at Burgmann College.
He showed fine leadership skills as a School Prefect, House Vice Captain and House Prefect in 2019 and had a visible, significant and positive influence on many of his peers. His ATAR was 99.50 and he received a Subject Certificate of Excellence for Literature which positioned him in the top 0.5% in the subject in WA.  
His work as a Youth Ambassador for the disability services organisation Nulsen has shaped his own outlook regarding the challenges facing those with a disability. This was further heightened while working with people affected by Agent Orange and other disabilities in Vietnam and Cambodia.  
Kristian is an outstanding solo cellist, pianist and singer. He was leader of the cello section of the Hale School Chamber Orchestra, a member of the School Senior Choir and in 2017 attended workshops at The Julliard School, USA. He also enjoys debating and playing sport. He has a passion for soccer, tennis and running. 
Unfortunately Covid-19 restrictions delayed the presentation of the 2020 C.A.S. Hawker Scholarship certificate, so the ceremony will be held next year at Burgmann College in Canberra.
Mrs. Lilias Needham established the Charles Hawker Scholarship in memory of her brother Charles Allan Seymour Hawker, one of Australia's most respected pastoral pioneers. These residential scholarships are valued at up to $60,000 over three years. It is one of the most generous privately funded scholarships available to undergraduate and postgraduate students in Australia.
Since 1990, more than six million dollars has been awarded to 129 young Australians. The successful 2020 candidates were awarded Hawker Scholarships from an Australia wide field of 125 applicants.

Applications for the 2021 Charles Hawker Scholarships open on 7 December 2020 and close on 8 January 2021.  An application form and further information are available from www.hawkerscholarship.org