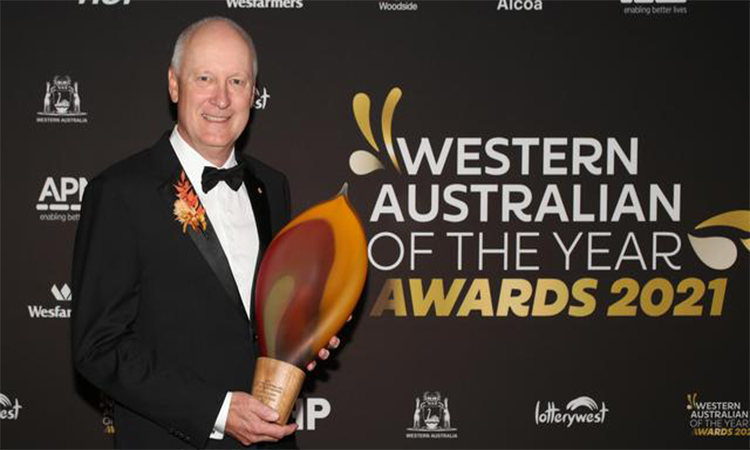 Richard Goyder, AO (1974-77) has been named 2021's West Australian of the Year.
Richard, who grew up on a wheat and sheep farm in Tambellup, started boarding at Hale in 1974 and became House Prefect of Loton and School Prefect in his final year.  A love of sport and particularly football was evident from a young age. Richard was a member of the 2nd VIII rowing, 1st XIII football and awarded Symbols for both football and athletics. The very proud West Australian reputedly once declared to his schoolmates that he would one day be Prime Minister of Australia. Instead, he has become a national leader in the corporate world and through philanthropy. 
Richard holds a Bachelor of Commerce degree and has twice been awarded the Honorary Degree of Doctor of Commerce, from the University of Western Australia and from Curtin University.
He held various positions at Tubemakers of Australia before joining Wesfarmers in 1993. He became CEO of Wesfarmers in 2005 and oversaw the biggest acquisition in Australian corporate history when Wesfarmers purchased Coles Group in 2007 before retiring from the Group in 2017.
Today Richard is the chairman of Woodside Petroleum Ltd, Qantas Airways Ltd, and the AFL Commission. He also chairs JDRF Australia, the West Australian Symphony Orchestra, and the Channel 7 Telethon Trust. In 2014 he was Chairman of the Australian B20, the key business advisory body to the international economic forum, which includes business leaders from all G20 economies.
Well known for his success in business, Richard is also highly regarded for his tireless commitment to giving back to the community, overseeing millions of dollars for many charities. Notably, in 2020 during the COVID-19 pandemic, he led Telethon to achieving its greatest success in history raising over $46 million.
Richard is also patron of Hale School Foundation's Visiting Fellows Programme. Now in its fourth year, the programme was developed to inspire, invigorate and encourage debate among Hale students, staff and the wider Hale community by inviting a broad range of leading thinkers to the School to deliver lectures and workshops. 
At the West Australian of the Year Awards ceremony held at Crown Towers in June, Richard was acknowledged for his commitment to philanthropy. In addition to being named West Australian of the Year, he also received the Community award.  
"I think it's an acknowledgement of all the people I work with; also the passion and commitment of the community I am involved in," Richard said in his humble acceptance speech.
He also encouraged other West Australians to proactively do things that help fellow citizens, saying it was too easy to be a critic from the sidelines. A fine example to current Hale students of Duty in action.