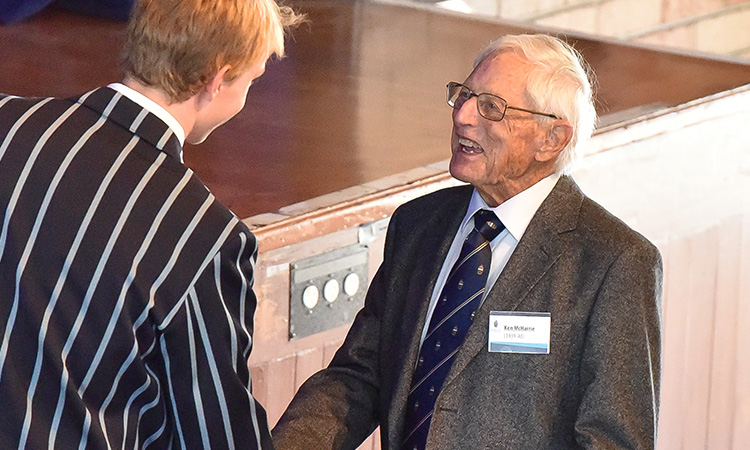 There are a mere 77 years between Captain of School, Gus Laufmann and OH Ken McHarrie (1939-40)
Ken McHarrie was the oldest Old Boy in attendance on Old Boys' Day at the ripe old age of 95, so it was only right that he was made a bit of a fuss of.
Grandsons Keith and Darren came along to help celebrate the occasion; Darren – all the way from NSW.
In all, over 150 Old Haleians took part in at least one part of the day which started with a Chapel Service taken by Reverend Dr Alan Forsyth (1954-58) who was acting Chaplain on the day. He said it was one of the hardest services he had taken for a long time. He felt as though he had to do the best job possible for his fellow Old Haleians!
Chapel was followed by morning tea, which gave many dads and grandads the chance to collect their sons and grandsons before heading into the assembly.
"Old Boys' Day assembly provides a rare occasion to share in what is sure to become a lifelong memory and, hopefully, a tradition for families to carry into the future. We are seeing more and more family groups joining us on this day."
The recipient of this year's Bishop Hale Medal, Andrew Forrest (1978-79), was announced, the Head of the River crews presented and the annual roll-call of all OHs in attendance delivered, followed by the usual thunderous applause from all the students.
Many stayed on for the annual AGM before joining their peers for lunch and a chance to 'catch-up' in the Tom Hoar Dining Hall.