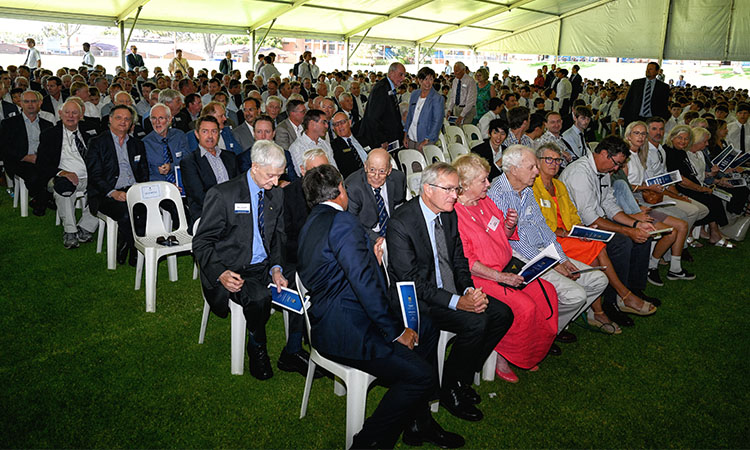 We were delighted to celebrate Old Boys' Day on Friday 17 March.
We were delighted to celebrate Old Boys' Day on Friday 17 March, with over 200 Haleians returning to campus. The celebrations included a morning Chapel service led by Father Tom Couper, followed by a special Old Boys' Day assembly with students from Years 7 to 12.  
During the assembly was the annual Roll Call of all attending Old Haleians, this is a proud tradition that dates back to 1934! In a testament to the strong bond that endures between the School and its' alumni, Ken McHarrie (1940), our oldest Haleian in attendance, was presented with a gift from the School Captain, Ashton Bryant. Ken, who attended with his grandsons, will be 100 in December.  
Old Boys' Day is a time to recognise and celebrate our outstanding alumni. Neville Eastman (1959) was awarded the Bishop Hale Medal for his unselfish, voluntary devotion to duty. Neville has spent most of his life in Bunbury, where he has made a significant impact as an active and highly respected member of the community. His contribution has been far-reaching and has touched the lives of many. His selfless dedication to improving the lives of others personifies the Hale School motto of 'Duty' and is an inspiration to us all. 
David Bean was awarded Honorary Life Membership of the Old Haleians' Association for his unrivalled dedication and service to Hale School over the past 38 years. Most Old Boys, young and old, will recall Mr. Bean being an outstanding teacher of English Literature and English, and in the leadership positions of Director of Curriculum and Deputy Headmaster of the School. In addition to receiving his Old Haleian tie and certificate, a booklet of well wishes and personal messages to David sent in by Old Haleians was also presented. 
Andrew Hassell (1982) stepped down as President of the Old Haleians Association after three years of service, we congratulate and thank him for his contribution. Lee Panotidis (1994) was welcomed as the incoming President.  
Following the assembly, the old boys' made their way to the dining hall for lunch and an afternoon of catching up with old friends and familiar faces. Old Boys' Day is always a highlight on the School calendar, and this year was no exception. If you have not attended an Old Boys' Day yet, we would encourage you to join us next year.  

Please click here to view some images from the day.