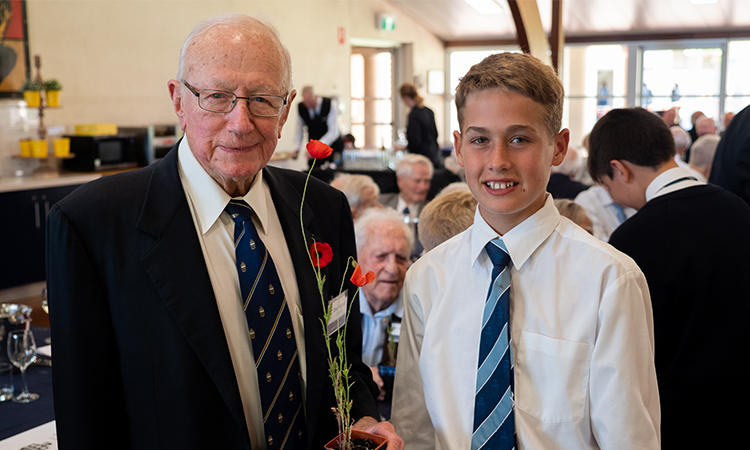 Over 110 Old Haleians came together, alongside current students and Hale School staff on Monday, 11 November to honour and remember our fallen soldiers.
During the service, Year 11 student Flynn Mahon gave an insight of what he believes Remembrance Day means for our Haleian community:
"As Haleians, we are often told about our motto of 'Duty'. Seeing it on our uniforms and buildings as much as we do may sometimes mean that we forget its significance. That's why remembering men and women involved in war, many of whom were not much older than some of us boys are now, is so important for all of us as Haleians, whoever we are: a Junior School student, a Middle School Student, a Senior School Student or even a member of staff.

Risking one's own life in a foreign land to save the lives of others is the epitome of Haleian duty.
... what can we do today to remember our fallen soldiers and honour their sacrifice? They gave their today for our tomorrow; let us therefore remember them by giving our today for the tomorrow of others. Let us, each and every one of us, live our day today in accordance with the Australian selflessness demonstrated to us by those we are remembering.

On the eleventh day of the eleventh month, not only at the eleventh hour but throughout the entire day, we will remember them in all that we do.
It is our Haleian duty".
Succeeding the Remembrance Day service, Old Haleians who left Hale School 45 years ago or more came together to enjoy lunch in the Tom Hoar Dining Hall. There were many stories and laughs shared among friends and it was wonderful to see so many of the class of 1974, the youngest Old Haleians invited, also attend for the first time.
The lunch was particularly special to 20 Old Haleians who left school 70 years ago or more, when they were each presented with poppies grown for the occasion by the Middle School gardening club.
To view photos taken on the day, go to the photo library - click
here