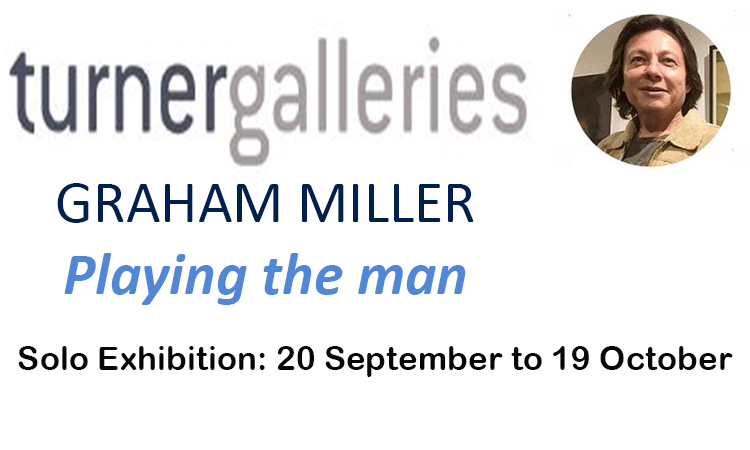 Childhood memories are the trigger for Graham Miller's (1976-83) new photographic series 'Playing the Man'.
GRAHAM MILLER
Playing the man
Turner Galleries - Solo exhibition, 20 September to 19 October 2019.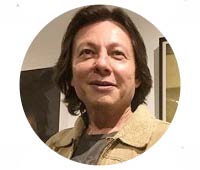 Special preview night: 6pm Thursday 19 September    
These playful and humorous images are a celebration of football and a nostalgic look at the past. Referencing bubble gum footy cards from the 1970's and 80's, Miller recreates himself as boyhood football heroes to explore issues of masculinity, identity, and cultural difference.
Compared to today's highly stylised and groomed celebrities on Instagram and social media, footy luminaries on cards from this period are refreshingly unmanicured. Larrikin grins, dishevelled hair, hammed up poses and indifferent photography coalesce into comical portraits which defy the revered status with which these players were held. Hard men look surprisingly soft. Miller emphasises the absurdity through the use of masquerade, using it as a strategy to question ingrained ideals of Australian masculinity and to comment on the difficulties of conforming to traditional notions of Australianness growing up as a person of mixed heritage.
"I came to boarding school in Perth aged ten in 1977. Hong Kong born, half-Chinese, English accented and tiny. I was the smallest person in the boarding house, even though there were boys two years younger than me. I felt like I had been "beamed in" from another planet. It was a Sunday when I arrived, and the introduction to Australian ritual began immediately. World Series cricket on the telly and Countdown at 6pm with Pussyfoot and Leo Sayer. Come wintertime, it was "The Winners" with Drew Morphett. The TV room packed with country boys waiting for Mark of the Day, Goal of the Day and Play of the Day. Malcolm Blight and Bernie "The Superboot" Quinlan, Ken Hunter and Leigh Matthews, The Flying Dutchman and the Flying Doormat. Hard men chasing an oval ball. It was tough to relate. These were the Aussie male heroes to aspire to. They didn't look much like me. Luckily in the WAFL there was Les Fong, a well-respected and courageous footballer of Chinese heritage that I could pretend to be. I never got any good at football. I played hockey, or as the boys at school used to call it "dicky-whackers." 
This exhibition will consist of photographic images, stubby holders and collector plates, based on the original collector cards, all featuring Graham Miller in replica poses and attire.
Photographs will be printed 59 x 42cm, as archival pigment prints, editions of 6 with 2 AP.   
Graham Miller, photographic self portrait.
"The Galloping Gasometer" Mick Nolan,
1979, archival digital print, 59 x 42cm, 2019.
Original Scanlens collector card
Graham Miller, photographic self portrait.
"Choppy" Les Fong, 1981,
archival digital print, 59 x 42cm, 2019.
Les Fong,
original promotional image, 1981.
 
 
 
 
Graham Miller's photography has been exhibited throughout Australia and overseas, including the Haggerty Museum of Art Milwaukee, South East Museum of Photography Florida, Rovaniemi Art Museum Finland, One Eyed Jacks Gallery UK, Rhode Island School of Design New York, Mt Rokko Photo Festival Japan, Pingyao International Festival of Photography China, Recontres Photographie Internationale de Niort France, Kaunas Photo Festival Lithuania (winner), F/Stop Festival Leipzig Germany, National Gallery of Victoria, the Art Gallery of WA, the Australian Centre for Photography Sydney, Perth Institute of Contemporary Art, the Photography Gallery of WA and with Turner Galleries. He was included in the 2012 monograph 101 Contemporary Australian Artists produced by the National Gallery of Victoria and was selected for the inaugural 2015 WA Focus exhibition at the Art Gallery of Western Australia that features new and recent artworks by outstanding West Australian artists.
Graham Miller was also a co-founder of FotoFreo, a biennial international festival of photography based in Fremantle, WA, that ran from 2002 to 2013. His photographs can be found in the collections of the National Gallery of Victoria, Art Gallery of WA, Haggerty Museum USA, Murdoch University, Edith Cowan University, Artbank, Parliament House Canberra, City of Fremantle, Royal Perth Hospital and many private collections.