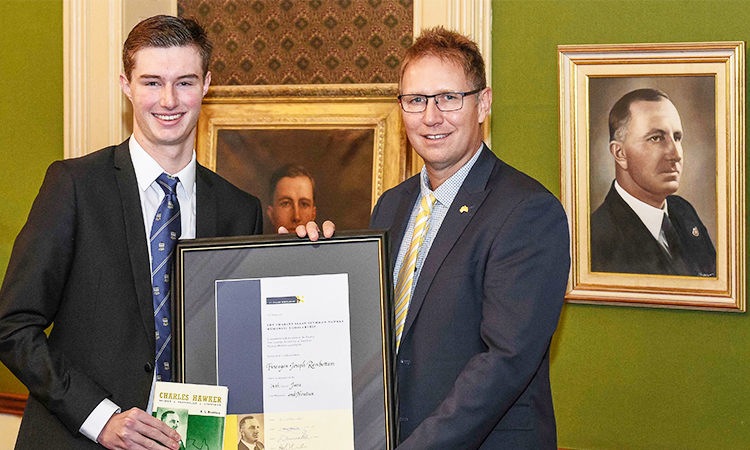 Finnegan Rowbottam (2013-18) is the third Hale School student to be awarded a C.A.S. Hawker Scholarship since the first Scholarship was awarded in 1990.
2019 Australian of the Year Dr. Richard Harris OAM presented four new Charles Hawker Scholars with their scholarship certificates at a ceremony at St Mark's College in Adelaide.  
The four new scholars are studying Medicine, Agriculture, Law, International Relations and International Security Studies. Forty-five friends and family, college representatives, current scholars, members of the Alumni and Trustees of the C.A.S. Hawker Scholarship attended the function.  
Finnegan is in residence at Burgmann College and is enrolled in the Bachelor of Law and Bachelor of International Relations degrees at the ANU in Canberra. He is a resourceful, motivated, independent, resilient and mature student with a tolerant, positive and friendly nature. He is a team player and his interests are broad.  
His academic record is a testament to his dedication to his studies and he has been richly rewarded with a trophy cabinet of awards from Hale School. His 2018 list of achievements include in The Hugh Guthrie History Prize, Academic Achievement Colours, the Year 12 Ancient History Prize, Mathematics Prize and Politics and Law Prizes. Finn has also won awards in Modern History and Drama. His ATAR of 99.3 reflected his dedication to his studies.  
Finn is an all rounder. He was an effective public speaker, House Prefect and participated in Hale School drama productions. He was an enthusiastic participant in school sport, notably basketball and football.
Mrs. Lilias Needham established the Charles Hawker Scholarship in memory of her brother Charles Allan Seymour Hawker. Today, each of these residential scholarships is valued at up to $60,000 over three years. It is one of the most generous privately funded scholarships available to undergraduate and postgraduate students in Australia.  
Since 1990, the Trustees have awarded more than six million dollars to 126 young Australians, including a significant number from regional areas. The four successful 2019 candidates were awarded Hawker Scholarships from an Australia wide field of 140.  
"I warmly congratulate the 2019 scholars. Each of them has already displayed a strong commitment to the splendid ideals upon which the Charles Hawker Scholarship Memorial Trust Fund is founded. They are a talented group of young Australian scholars with a social conscious and an inquiring mind. I wish them well in their studies.
 
"I commend the Trustees for the significant contribution the scholarship continues to make to the education of an increasing number of young Australians," Dr. Richard Harris OAM said.
There are a number of scholarships awarded each year. The Trustees offer them to capable students of principle and character, who are committed to Australia's future. The Charles Hawker Scholarship perpetuates the memory and commemorates the achievements of one of Australia's most respected pastoral pioneers. Born on 16 May 1894 at Bungaree homestead near Clare in South Australia. Student, soldier, pastoralist and statesman Charles Allan Seymour Hawker died in the Kyeema air disaster on 25 October 1938.  
Undergraduate and postgraduate Hawker Scholars are able to attend a range of educational institutions. These include the Australian National, Adelaide, Flinders, South Australia and New England Universities and Marcus Oldham College. Postgraduate Charles Hawker Scholars are also able to follow in Charles Hawker's footsteps by studying at the University of Cambridge UK.  
Selection is based on personal qualities as well as academic ability. Applications for the 2020 Charles Hawker Scholarships open on 9 December 2019 and close on 8 January 2020.  An application form and further information is available from
www.hawkerscholarship.org
.