Young Haleians' Endeavour Award
The  Young  Haleians'  Endeavour  Award  is  a  unique  opportunity  for  a  member  of  the  Young  Haleian  community  to  be  nominated  (or  self-nominate)  for  an  award  that  provides  financial  support  up  to  the  value  of  five  thousand  dollars.  This  financial  support  is  designed  to  enable  Young  Haleians  to  pursue  their  future  goals  -  no  matter  their  field  of  pursuit.  
Every  Young  Haleian  has  the  opportunity  to  strive  towards  a  goal  with  purpose,  and  the  Young  Haleians'  Award  is  designed  to  provide  the  support  needed  to  do  so.  The  criteria  for  the  award  are  outlined  as  follows:  
To  be  awarded  to  a  Young  Haleian  under  the  age  of  30  who  has  established  commitment  towards  and  achieved  (or  is  significantly  advanced  towards  achieving)  success  in  his  chosen  field  of  endeavour.    
He  must  be  able  to  demonstrate  noteworthy  accomplishments  within  this  field  and  have  strategies  in  place  to  further  progress  towards  a  significant  goal  while  reflecting  the  values  of  Hale  School.    
If  you  would  like  to  nominate  a  Young  Haleian  or  yourself  for  the  award,  written  applications  can  be  submitted  and  will  be  judged  by  the  YH  sub-committee  with  awards  being  granted  accordingly.  All  submissions  are  to be made  by via the website  and  you  have  the  option  to  remain  completely  anonymous  in  the  process.
Complete the Application Form and send to the OHA Office: younghale@hale.wa.edu.au or Young Haleians, Hale School, Hale Road, WEMBLEY DOWNS 6019
---

the winner of the 2018 young haleians' endeavour award was chris hewitt (2009-2013)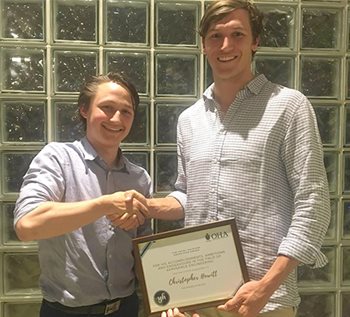 The  Young  Haleians'  Endeavour  Award  recognises Chris' outstanding accomplishments, future ambitions and endeavours in his field, being Aerospace Engineering.
Chris commenced studies at UWA moving to Melbourne to complete his Masters' in Aerospace engineering at RMIT. He achieved a GPA of 3.9 (out of 4.0) and was the elected Student Representative for the Masters' program. He was also awarded the 2018 Boeing Industry Scholarship. His Masters' Thesis in rocket nozzle efficiency was recently accepted into the Australian International Aerospace Congress to be published and presented at their annual conference in 2019.  
The funds will contribute to software engineering courses separate to his degree, further develop his skills and CV and in addition assist partially with relocation costs to Melbourne and overseas if opportunities arise.
Chris was well liked at Hale, making the most of the opportunity the school provides, he embodies the criteria of the award as well as Hale's values and we are very excited to follow his progress going forward.  
      Chris Hewitt (L) pictured with Matt Haddon (R)
"I am incredibly honoured to be receiving the Endeavour Award this year. I fully intend to make the most of the award and am excited for the opportunities this opens up for me.  I want to extend my thanks to the Old Haleians Committee as well as Hale School for providing me with the resources and the environment to get to where I am today. I am so proud to be recognised by the school I was lucky enough to grow up with."
---

The inaugural winner was Connor Delves (2008-2013)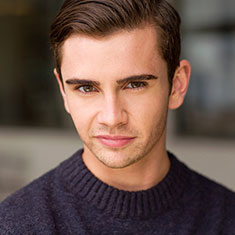 Connor  threw  himself  into  his  studies  and  immersed  himself  in  all  that  Hale  had  to  offer  during  his  time  as  a  student.  He  gained  Symbols  for  music  (Choir  and  Ensemble),  Service  Learning,  Drama,  Football,  Athletics  and  Academic  achievement,  as  well  as  Colours  for  Academics  and  Colours  and  Honours  for  his  real  passion,  Drama.  Naturally  enough  it  was  Drama  that  captured  his  full  attention  and  Connor  took  himself  off  to  New  York,  straight  from  school,  to  begin  full-time  study.  At  the  end  of  his  first  two  years,  Connor  was  one  of  just  16  young  actors  from  around  the  world  to  be  invited  to  join  the  2016/17  Academy  Company.  His  commitment  at  the  Academy  during  this  time  was  rewarded  with  a  US  $20,000  scholarship.  He  was  still  left  way  short  of  the  actual  cost  of  his  year's  fees,  however,  as  his  visa  status  did  not  allow  him  to  work  outside  the  Academy.  It  was  at  this  point  that  Connor  approached  the  OHA  for  assistance.  Part  of  his  proposal  said, I would  like  to  think  that  my  achievements  in  the  US  to  date  match  that  of  mine  back  home  in  Australia.͟ The  OHA  agreed  that  they  absolutely  did  and  was  delighted  to  be  in  a  position  to  offer  some  assistance.  All  of  this  was  happening  in  tandem  with  the  development  of  the  Young  Haleians'  group  and  the  OHA  supported  Connor  knowing  that  he  would  qualify  for  the  Endeavour  Award.  
He  strongly  believes  that  making  one's  own  work  is  the  key  to  success:  a  value  taught  to  him  at  Hale  and  one  that  has  stood  him  in good  stead  so  far  in  his  career.
"The  support  Hale  and  the  OHA  have  provided  me  has  allowed  me  to  really  focus  on  this  dream  and  bring  it  closer  –  within  reach.  I'm  seeing  the  results,  but  I  am  determined  to  go  further  and  reach  as  high  as  possible.  I'm  meeting  and  working  with  amazing  people  and  that  is  all  I  can  really  ask  for  right  now.  It's  an  extraordinary  time!"